Are you desiring a new look for your master bedroom, but not the expense that may come with it? If so, then you will be pleased to know that there are many things you can do to restyle your room without forking out a lot of cash. Here are some great tips for how to redecorate your master bedroom on a budget:
Change your bedding. Your bed is the focal point of your room, and what you dress it with can set the entire tone of the room, as well as guide you on how to decorate the rest of your room. Fortunately, there are literally thousands of bedding styles to choose from – in an array of colors, fabric textures, and patterns – and it's possible to find complete bedding sets that include sheets, a comforter, a bed skirt, pillow covers, accent pillows, and more for a relatively low cost, especially if you are willing to shop around. Check out bedding stores, as well as Internet sites, closeout stores, and retail department stores to explore your options and find great deals.
Rearrange your furniture. Creating a new layout with your existing furniture can completely change the look and feel of your bedroom. Roll up your sleeves and recruit some strong arms and try a number of different arrangements to find one that works for you.
Treat your walls. When it comes to giving your walls a new look, you are really only limited by your imagination, and one of the best things about treating your walls is that you can get a lot of effect for a very little amount of money. Of course, the simplest and cheapest thing you can do is to give your walls a fresh coat of paint in a new color. However, if you are creative (and a little artsy-crafty), you can apply a wall texture, create a faux finish, or even paint a wall mural. Additionally, consider options like wallpaper, fabric, and decals.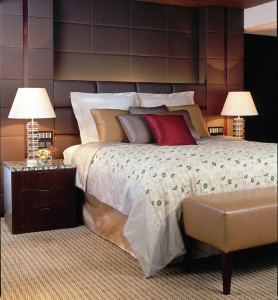 Refinish your furniture. Give tired, old furniture a new look by refinishing it. You have a lot of options here, some more labor intensive than others, but the hard work will be well worth the dramatic results you can get from a refinishing job. Consider re-staining wooden furniture to give it a new tone (or even just to make it look like new again), or choosing a solid paint in either neutrals or a bold statement color.
As you can see, it is possible for you to create an entirely new master bedroom environment without spending a lot of money as long as you are willing to invest some resourcefulness, creativity, and legwork. Draw from these ideas for inspiration, and happy decorating!
About the Author: Alvaro Nydam and his wife just finished redecorating their master bedroom. They found a modern bedroom set at a discounted rate and then went on to change up the colors and decor with inexpensive paint, artwork, and window treatments. The room looks completely different and is more relaxing than ever before!
Share and Enjoy