Do you have people on your gift-giving list that are hard to buy for? Or people that seem to already have everything? If these scenarios sound familiar, then you may want to consider giving these people something everyone enjoys – an edible gift! Edible gifts are a pleasure path for your recipients – especially when you give a delicious gift! These are our six favorite edible gift ideas, so feel free to follow suit or get creative and come up with an edible gift of your own – bon appetit!
1. Seasonal Mug with Chocolate-Dipped Spoon
With the cooler weather upon us, hot chocolate is the perfect compliment and practically everyone loves this childhood favorite hot drink. As a gift you can create a fun way for them to enjoy this all-time favorite. Pick out a mug that suits the style of the gift recipient, and with a plastic bag layer hot cocoa mix with marshmallows (just enough for one drink per bag). You can also add a special chocolate-dipped spoon to the gift as well. It is as simple as getting a plastic spoon and dipping it in some melted chocolate chips. For a more specialty boutique look, consider adding colored sprinkles (Christmas, Hanukah or even Halloween colors).  Wrap the spoon in cellophane and tie with ribbon and you are done!This is not only a delicious gift, it is also a great gift for anyone watching their wallet.
2. Jar of Cookies Mix
Along the same line as the hot chocolate mix kit, you can also do a cookie mix. In a large mason jar, layer the dry ingredients needed to make your favorite cookies, chocolate chip, oatmeal raisin or even white chocolate macadamia nut. Then create a decorative card that shares your recipe and baking instructions, as well as what is needed to complete the cookie mix in the jar. These look really cute – especially when they are dolled up with ribbons and gorgeous cards. The cards can be hand-crafted or printed. This is a great gift for the sweet tooth in your life or even as a great housewarming gift.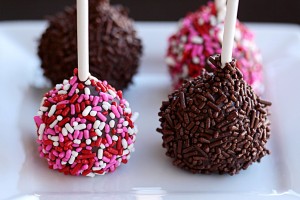 3. Cake Pops
If do-it-yourself gifts are not your cup of tea, there are plenty of other edible gift ideas that you can buy (or make yourself if you are feeling gutsy). Cake pops are a huge trend right now – and give the right amount of sweet. Most bakeries, even Starbucks, carry these popular treats – so order up half a dozen or more and give away!
4. Cookie Bouquet
Another fun edible gift is the cookie bouquet. The neat thing about these are cookies can be so customizable – nearly any occasion can be celebrated with a cookie bouquet, especially when you have a good baker.  The bakers can make the cookies into shapes of surfers, golfers, your favorite sport and even cartoon. Then they are decorated with delicious frosting and you have a powerful and tasty treat to give away! These are great for kids, adults and even baby showers!
5. Wine of the Month
If your gift recipient does not have a sweet tooth, you will want to go another direction. One that may be a great option is signing your friend up for a wine of the month club. This will allow your friend the opportunity to experience many different types of wine. This is a pricier edible gift, but will surely be enjoyed!
6. Steak & Lobster
There are also a number companies that will deliver edible gifts to your friends' and families. You can shower your friends and family with delicious delicacies like steak and lobster – all of which are sure to bring a smile to their faces and fill their bellies.
Apart from being a licensed veterinarian, Susan Wright is also a freelance writer. Susan enjoys sharing gift giving ideas for friends, family and pets.
Share and Enjoy