If you are a cyclist, then you are probably always looking for new environments in which to travel by wheel. You may not be aware that Africa is full of cyclist-friendly adventures, any of which would make a vacation to remember for a lifetime. Are you interested in learning about what Africa has to offer? Here are five great tour groups for cyclists visiting Africa:
Wildcat Biking Tours. Bring your mountain bike to Morocco for the Tuareg Trail tour through the Anti Atlas mountains. This tour group offers two tours in Morocco and also two tours in Tunisia, and is great for moderate to experienced bikers, as the guides modify the tour according to the experience level of the group.
Tour de Wilderness. If you are an avid mountain biker, then this unforgettable journey may be the perfect fit for you. Travel down to South Africa for the Tour de Wilderness, arguably South Africa's most popular mountain biking tour offering. The Tour de Wilderness takes place every year, over a period of five days (so you may need to train for this one!), and it is also a charity tour. Not sure five straight days of biking through the mountains is for you? Then you can choose between the original (challenging) route or the explorer route.
Escape Adventures. This is a sixteen day adventure biking through the Eastern Africa region from Tanzania to Kenya. One thing that makes this cycling tour group so special is that they offer a family friendly expedition, so you can bring the little ones along.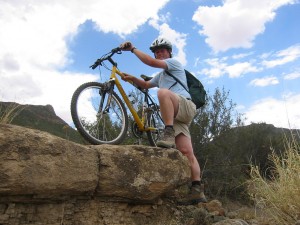 Escape Cycle Tours. This tour group is unique in that it offers customized mountain bike tours, as well as road bike tours. Additionally, tours are hosted throughout the year, covering a broad range of Africa's scenery, from Botswana to the many provinces of South Africa. Therefore, you are likely to find exactly what you are looking for out of an Escape Cycle Tour. Tour lengths range from four days to twelve, so you have the ability to choose a tour perfect for the experience level of your group.
Rwanda Adventures. Rwanda is known throughout the cycling community as one of the all around best places to cycle in Africa. As the name suggests, the Rwanda Adventures tour group specializes in tours through the terrain of Rwanda.
In addition to being an eco-friendly way of travelling, cycling is also a great way to see the beautiful continent of Africa up close and personal. There are many different tours to choose from, so check out all of these great options before you decide which is right for you.
About the Author: Elwood Holtberg loves visiting the country and exploring differen African safari tours. He's currently training for a cycling race at home and then hopes to stay in shape enough to enjoy a cycling tour the next time he visits Africa.
Share and Enjoy